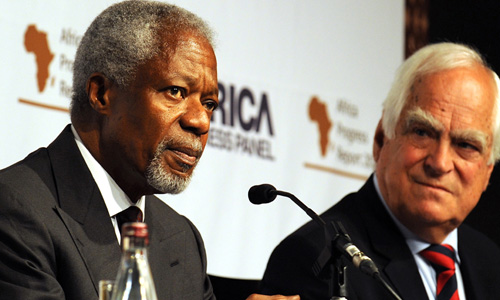 KOFI ANNAN: Imagine an African continent, where leaders use mineral wealth wisely to fund better health, education, energy, and infrastructure too.
Africa, our continent has oil, gas, platinum, diamonds, cobalt, copper, and more. If we use these resources wisely, they will improve the lives of millions of Africans. If we don't, they can fuel corruption, conflict, and social instability.
Transparency and accountability are key. The US and Europe are demanding new transparency from companies who work in Africa. We must also take responsibility. Our governments may have become more open. Big businesses may have improved their ways of working. But we -- Africans --must do so much more.
This issue is too big for the politicians and big business to manage without the involvement of civil society. I'm Kofi Annan, former Secretary-General of the United Nations and Chair of the Africa Progress Panel. Work with me to demand more transparency from Africa's national leaders and foreign investors. What are they doing?
How much is it worth? And how will the money be spent? Because this is our continent, our minerals, our children's and grandchildren's future.